STRATEGIC PLAN | 2022-2025
It is with great excitement that we are officially launching the next iteration of the Distinctive Schools Strategic Plan! With guidance from partners, the voice of our students and staff, and the approval of our National Board, we are confident that this trailblazing plan will guide our path in the coming years with equity, excellence, and culture at the forefront of our organization.

In service of student learning, our new plan prioritizes the Holistic Educational Experience to accelerate learning and develop a deep sense of belonging for all learners. Our focus on Team Member Excellence, and supporting our incredible teachers and staff, paired with our work towards the development of Community Hubs, will continue to provide resources and opportunities for our students and their families. We continue to expand and solidify our Impact and Innovation as a nationally recognized model, and continue to build systems, structures, and the infrastructure necessary to develop our Organizational Capacity.

Distinctive Leaders Introduce the Strategic Plan: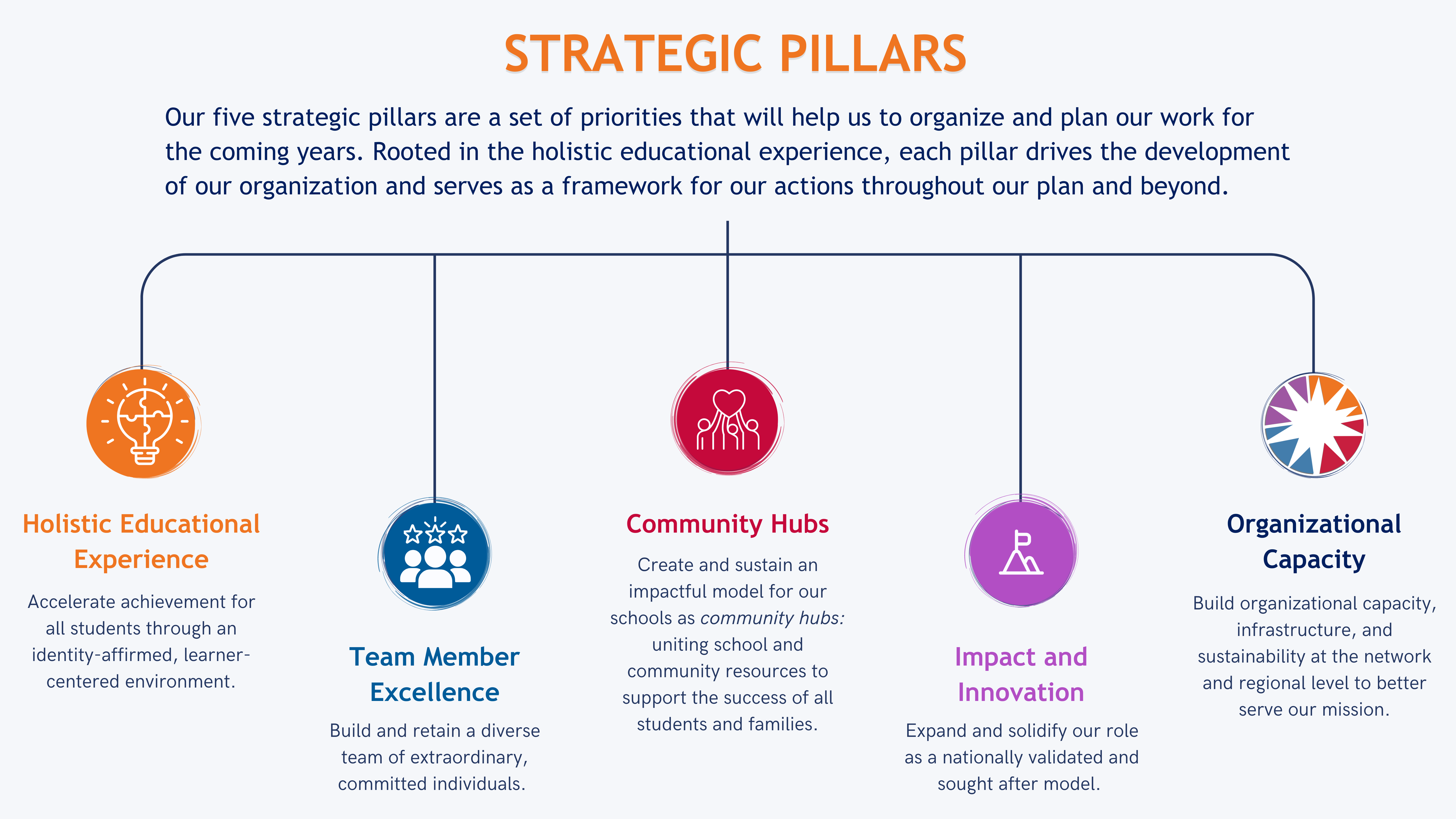 We have been working with partners at The Alford Group to develop this inclusive, collaborative plan. We launched the process in March, and throughout the last months have captured and responded to over 700 touchpoints with stakeholders, staff, families, students and partners. Our stakeholder responses have helped us to finalize details, and the guiding pillars of our work – we are so grateful to everyone who provided their input and feedback.
We learned so much about how we need to show up differently and better in response to the pandemic, and where we were successful. We also know there are new important priorities and needs that have emerged that we need to respond to. We are so proud of our organization for launching a new strategic plan during such an important time in our world. Instead of looking back to old goals and priorities, we are forging ahead in a nimble and iterative way to show up for our communities.