Introducing... LEAP Innovations with Distinctive Schools
Distinctive Schools was designed to INNOVATE – to bring a new vision for K-12 education, and unleash the incredible potential in every student. We're thrilled to launch a partnership with LEAP Innovations and bring our innovative models together in service of all learners!

LEAP Innovations is partnering with Distinctive Schools to launch a new initiative aimed at promoting personalized learning and problem-solving among teachers and leaders. We are energized and ready to reinvigorate our mission – we know our students need personalized education now more than ever! This partnership will present a series of workshops and collaborative opportunities for educators to utilize the LEAP Learning Framework to personalize learning and address the challenges of practice.
The goal of this partnership is to empower educators to continue using the LEAP Learning Framework to personalize learning and solve the problems of practice in their schools. Our work is focused on helping educators, leaders and school teams to design for what students need from us post pandemic and to ensure we keep innovation and personalized learning at the center of our recovery work. We believe that this partnership will create a powerful opportunity for educators to learn from each other and collaborate on solutions to the challenges they face.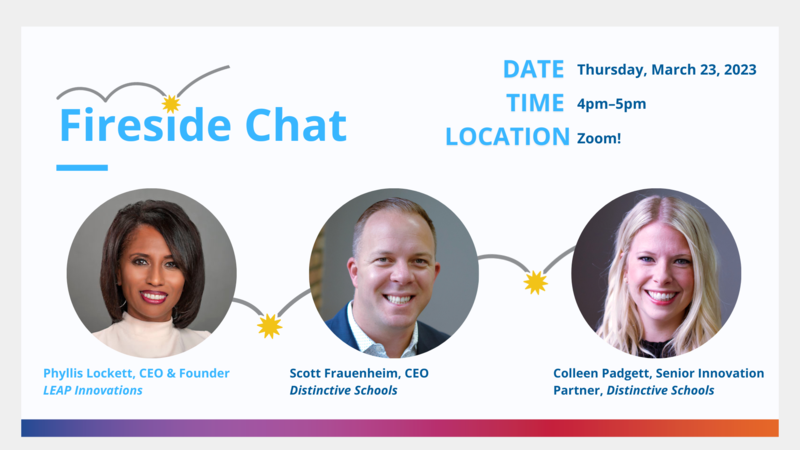 Learn more, sign up for a workshop or retreat, and tune in this Thursday at 4pm CST as we officially kick things off during a virtual fireside chat with LEAP Innovations founder, Phyllis Lockett! Distinctive Schools' CEO, Scott Frauenheim and Senior Innovation Partner, Colleen Padgett will join Phyllis to officially kick things off! We will share more about how you can energize your practice post-pandemic and get back to the student-centered learning our students need.
If you have any questions, please do not hesitate to reach out to us at LEAP@distinctiveschools.org.