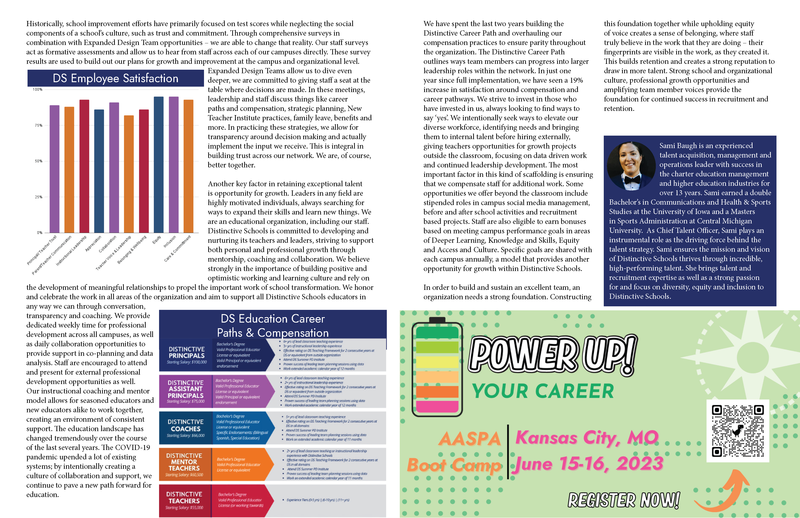 Distinctive Schools Chief Talent Officer, Sami Baugh, was featured in the February issue of The Compass: Direction for HR Leaders in Education from the American Association of School Personnel Administrators!
Read the full article below and be sure to check out the magazine HERE!
---
Culture and Retention: The Recipe for Systemic Change

Creative recruitment starts with retention. Beginning with the role of company culture, Distinctive Schools has made strategic investments to reimagine the staff experience through thoughtful reflection, staff voice and collaborative investment.
Founded in 2011, Distinctive Schools was designed to disrupt and transform public education – we were looking for change and for something better; to provide innovative opportunities to students regardless of their zip code – to place families in the driver's seat. In 2011, we began redesigning schools with stakeholders, families, students and staff at the center of our design. We began designing a personalized learning model that has become a national movement, starting with relationships, trust, listening and moving into 21st century classrooms and schools of the future – learner profiles, competency based progression, flexible learning environments and personalized learning plans.
Everything we do is in service of student learning. In order to continue to push forward and continue this work, our need to recruit and retain excellent staff is paramount. Amidst a nationwide teacher shortage, we found ourselves asking the question "how can we achieve this?"
In thinking about creative recruitment, we believe the first step is in considering culture. A strong company culture attracts strong talent and creative recruitment begins with retention.
At Distinctive Schools, culture is at the heart of everything we do. Our motto is "By, For and With Teachers and Staff ". We recognize the value every single member of our team brings to our campuses, including instructional staff, non-instructional staff, full time and part time roles – it takes a team working together to make our schools the best possible places to learn and grow. Our goal is to create a non-hierarchical environment when it comes to voice and input from our community; every team member's individual experience is vital in creating the most innovative, joyful, rigorous learning environment we can. By incorporating voice and perspective from all areas of our organization, we are co-constructing a strong culture, building our environment together and creating a rich sense of belonging.
Historically, school improvement efforts have primarily focused on test scores while neglecting the social components of a school's culture, such as trust and commitment. Through comprehensive surveys in combination with Expanded Design Team opportunities – we are able to change that reality. Our staff surveys act as formative assessments and allow us to hear from staff across each of our campuses directly. These survey results are used to build out our plans for growth and improvement at the campus and organizational level. Expanded Design Teams allow us to dive even deeper, we are committed to giving staff a seat at the table where decisions are made. In these meetings, leadership and staff discuss things like career paths and compensation, strategic planning, New Teacher Institute practices, family leave, benefits and more. In practicing these strategies, we allow for transparency around decision making and actually implement the input we receive. This is integral in building trust across our network. We are, of course, better together.
Another key factor in retaining exceptional talent is opportunity for growth. Leaders in any field are highly motivated individuals, always searching for ways to expand their skills and learn new things. We are an educational organization, including our staff. Distinctive Schools is committed to developing and nurturing its teachers and leaders, striving to support both personal and professional growth through mentorship, coaching and collaboration. We believe strongly in the importance of building positive and optimistic working and learning culture and rely on the development of meaningful relationships to propel the important work of school transformation. We honor and celebrate the work in all areas of the organization and aim to support all Distinctive Schools educators in any way we can through conversation, transparency and coaching. We provide dedicated weekly time for professional development across all campuses, as well as daily collaboration opportunities to provide support in co-planning and data analysis. Staff are encouraged to attend and present for external professional development opportunities as well. Our instructional coaching and mentor model allows for seasoned educators and new educators alike to work together, creating an environment of consistent support. The education landscape has changed tremendously over the course of the last several years. The COVID-19 pandemic upended a lot of existing systems; by intentionally creating a culture of collaboration and support, we continue to pave a new path forward for education.
We have spent the last two years building the Distinctive Career Path and overhauling our compensation practices to ensure parity throughout the organization. The Distinctive Career Path outlines ways team members can progress into larger leadership roles within the network. In just one year since full implementation, we have seen a 19% increase in satisfaction around compensation and career pathways. We strive to invest in those who have invested in us, always looking to find ways to say 'yes'. We intentionally seek ways to elevate our diverse workforce, identifying needs and bringing them to internal talent before hiring externally, giving teachers opportunities for growth projects outside the classroom, focusing on data driven work and continued leadership development. The most important factor in this kind of scaffolding is ensuring that we compensate staff for additional work. Some opportunities we offer beyond the classroom include stipended roles in campus social media management, before and after school activities and recruitment based projects. Staff are also eligible to earn bonuses based on meeting campus performance goals in areas of Deeper Learning, Knowledge and Skills, Equity and Access and Culture. Specific goals are shared with each campus annually, a model that provides another opportunity for growth within Distinctive Schools.
In order to build and sustain an excellent team, an organization needs a strong foundation. Constructing this foundation together while upholding equity of voice creates a sense of belonging, where staff truly believe in the work that they are doing – their fingerprints are visible in the work, as they created it. This builds retention and creates a strong reputation to draw in more talent. Strong school and organizational culture, professional growth opportunities and amplifying team member voices provide the foundation for continued success in recruitment and retention.
Interested in joining our team? View our open positions: https://www.distinctiveschools...